PenRad MIS
Overview | Appointment Package | Bone Density | Breast Density | CAD Connectivity | Data Migration | DICOM | Navigator
PenConnect | PenFetch/Plus | PenHL7 | PenProfiler | PenWHF | Risk Assessment | Softcopy Integration | Voice Integration
PenWHF - Wireless History Form Tablet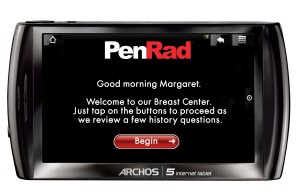 Now your patients can update their information with simple prompts in a yes or no format that validates their personal and historical data. No more pencils, pens, history forms or recycling bins are needed with the wireless history form: PenWHF.
Easy To Use
Simply have the patient use the WHF tablet to update their personal and historical information. All information in the PenRad system is displayed in simple yes/no prompts for the patient to verify or change. Once changes have been made or verified, the information is automatically entered into the permanent patient history data in the PenRad system. The WHF eliminates the need for patients and/or technologists to enter data time after time. Once the patient is in the PenRad system, their information is automatically on file. The WHF tablet eliminates paper and saves time, ultimately improving workflow.
Eliminates Errors
Data entry is accomplished directly by the patient; eliminating the possibility of a data entry error by staff. All patient information that is in the PenRad system is automatically displayed on the tablet. All the patient needs to do is to verify the information by simple yes/no taps on the tablet screen.
Educational
When patients are finished with their historical data they can watch a BSE video, or any other educational or promotional videos, by simply selecting the desired item on the tablet.
Saves Time and Money
Data history collection is accomplished in half the time and there is no manual transfer of data from a paper history form into the PenRad system, eliminating the chance for clerical error. Data entry errors become a thing of the past with the PenRad WHF. PenRad offers solutions to advance professional productivity and to reduce expenses for breast imaging centers.