PenVasc
Overview | Modules | Sample Clinical Reports | Sample Administrative Reports | PenVasc System Requirements
Click for larger view (then click enlargement to close):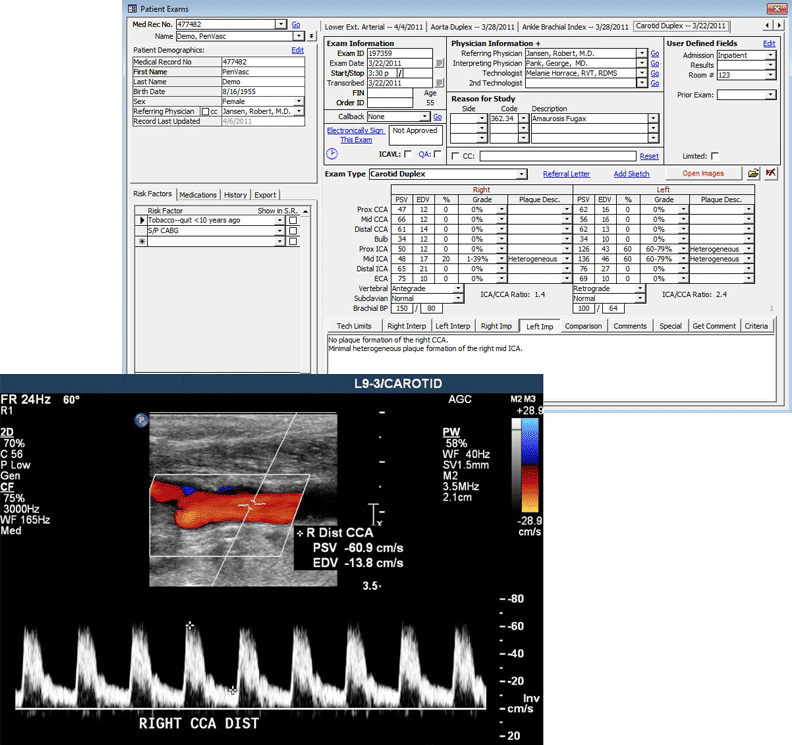 PenVasc Delivers:
Enhanced workflow with a software only practice management solution
Ease of use for report generation and physician approval
Flexibility allowing clinicians to access PenVasc anywhere
Improved economics with money and time saved
Compliance as a vascular database application designed for operating an accredited laboratory



With PenVasc, technologists, physicians and clerical staff save time, allowing more patients to be seen -- improving workflow, quality and revenue.
PenVasc

PenVasc Vascular Information System (VIS) offers assurance for peak efficiency in the lab. The system offers flexibility with easy integration into a program's Health Information System (HIS). PenVasc increases productivity and eliminates costs by managing all processes of the vascular lab including scheduling, ordering, worksheets, reports and billing. With PenVasc, duplication of data entry and worksheets are eliminated, and narrative report results are available for distribution within moments after the exam is complete. Additionally, quality assurance, lab utilization, research tools, and patient data are automatically collected making meeting accreditation requirements an effortless process.
---
Watch a Recorded Demo
PenVasc VIS for Improved Productivity and Revenue in the Vascular Lab